International Virtual Chapter (IVC)
---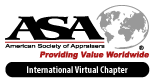 Membership in ASA provides a worldwide professional affiliation of appraisers in all disciplines. While a primary objective is to promote the exchange of ideas and experiences between members, ASA's increasingly geographically dispersed membership calls for new ways to interact, and the new digital age provides new ways to communicate. With the interconnectivity of our global economy, appraisers are pursuing professional opportunities anywhere, anytime, resulting in wider geographical distances between members, some located more than 120 miles of a geographic chapter.
To foster such growth, there is increasing demand for ASA's pre-eminent professional appraisal education and credentialing to be available in local communities as well as in foreign countries throughout the world. To provide member benefits to small groups who have not yet attained the critical mass to form a geographical chapter, ASA established the International Virtual Chapter ("IVC").
---
IVC Mission
The IVC's mission is to provide a forum to exchange ideas and network with other members, and to provide educational content. A current goal of the IVC is to provide POV courses to its members that will result in growth of membership headcount. Essentially, the International Virtual Chapter has a goal of mentoring its members.
---
Oversight, Direction, and Governance
ASA's Regional Governors are charged with providing oversight and direction to the IVC. ASA's Staff has been instrumental in producing IVC's quarterly webinars. Like any other chapter, IVC's Officers and Directors are elected annually and determine the direction of the chapter. IVC members, officers, and directors may present educational content on quarterly webinars, participate on committees, and implement their own ideas to promote the chapter's growth.
Contact the Chapter Officers