ASA Pressure Sensitive Seal
---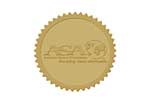 The ASA Pressure-Sensitive Seals are an elegant embellishment to appraisal reports, stationery or brochures. The 1.8125" diameter round gold foil seals are embossed with gold lettering and finished with a serrated edge.
$25/per 100 seals—Available to AMs, ASAs and FASAs only.
Condition Statement—By completing the purchase of this item, you are agreeing to the following: I understand that the use of this seal is limited to Accredited Members, Accredited Senior Appraisers and Fellows in good standing.